Wrongful Death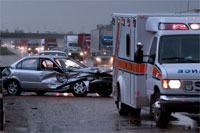 Nothing can truly compensate you for your loss when one of your loved ones is killed because of someone else's negligent or intentional conduct. However, the law provides you and other family members the right to recover the damages you suffer as the result of your loved one's death, whether the death results from medical negligence, an automobile accident or an offshore accident. The damages recoverable for these types of claims include the loss of love and affection, the loss of income, and the pain and suffering you experience as a result of your loved one's death.
The Dunahoe Law Firm has represented numerous people who have lost loved ones because of the careless or intentional behavior of others. Losing a family member is one of the most difficult experiences a person can endure and the attorneys at the Dunahoe Law Firm, with over 35 years of combined experience, are committed to helping families recover compensation for their greatest loss.
If you or someone you know has lost a family member as the result of another person's negligent or intentional act, please contact the Dunahoe Law Firm at 1-800-259-4460 or contact us online to speak to one of our experienced trial lawyers.