Third-Party Liability in Industrial Accidents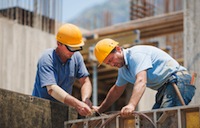 Workers who suffer injury on the job generally cannot sue their employers for damages, and are limited to whatever they can get from the worker's compensation system. This means that an injured worker cannot sue for damages for negligence by a boss or co-worker on a work site. If someone other than the employer caused the accident, however, the worker may have a third-party claim for liability and may be able to successfully sue for damages. Construction sites often involve multiple subcontractors, suppliers, and other service providers working close to one another, and the negligence of one can affect all the others. A skilled Natchitoches, LA, construction injury attorney can help identify potentially liable parties and work to obtain compensation for injuries.
Most construction sites have a general contractor running the overall operation, who hires subcontractors to handle specific parts of the project. These may include specific tasks like excavation, laying the foundation, framing, or painting; or it could involve specific materials like concrete, stone, or paint. This also holds true in many industrial work sites, such as mills or factories, where subcontractors and suppliers provide services to the site's manager or owner. Workers at the site may work for the general contractor or any one of the subcontractors. The atmosphere at a busy site can reasonably be described a "chaotic" on most days. If someone is injured later because a subcontractor was negligent, it may be difficult to determine liability for the injury. The subcontractor may have performed its duties correctly, but the parts themselves are defective. In this case, liability may ultimately rest with the manufacturer of the defective product.
A claim for damages against a third party may rely on any of several legal principles. A subcontractor or supplier may have been negligent in installing part of the project or in some other part of its job on the site. To prove negligence, an injured person must show that a defendant owed some duty of care to the person and breached it. This could include the duty to adequately perform its job on the site but failing to do so. The injured person must also prove that the defendant's breach caused the accident and that the person suffered actual injuries. An injured worker could also make a claim for products liability. This holds a product's manufacturer liable for damages caused by defects or dangerous properties of the product. An injured worker might be able to claim damages based on premises liability, which holds the owner of land liable for damages caused by dangerous conditions on the property. Damages available to an injured worker could include medical expenses, costs of rehabilitation, lost wages for missed work and other lost income, future medical expenses and lost income, and compensation for pain and suffering endured because of the injury.
Serving all of North Louisiana, the Alexandria, Lousiana, personal injury lawyers of the Dunahoe Law Firm bring years of experience in assessing and evaluating damages in construction and industrial accidents. We will help untangle the web of contractors, subcontractors, suppliers, and other present on the site where the accident occurred to establish who bears liability for the injuries. To schedule a free and confidential initial consultation, contact us through our website or at (800) 259-4460.