Road Hazards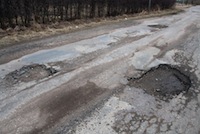 Life is one big road with lots of signs. Not to mention potholes, debris and other obstacles that can not only wreak havoc on your tires, but also result in accidents, vehicle damage and serious personal injury for drivers and riders. Alert, safe driving, with an eye out for potential hazards and plenty of time to react to them is probably the best defense to the risks of the road, but there are some perils - a fallen branch, missing manhole cover, or a deer darting across a dimly lit street, for example - that simply may not be avoidable.
A person involved in a car or motorcycle accident caused by road hazards is susceptible to a wide variety of serious injuries, including whiplash, broken bones, internal injuries, and even death. Nearly 33,000 people were killed in car crashes last year alone.
If you or someone you love has been injured in a car accident caused by road hazards, you are well-advised to seek the counsel of an experienced attorney. In addition to medical bills and auto repair costs, you may also be entitled to recover damages for lost wages as well as pain and suffering. While obtaining relief often requires filing a personal injury lawsuit, these matters can also be settled without going to court in certain circumstances.
At the Dunahoe Law Firm, our Louisiana personal injury attorneys have more than three decades of experience representing clients who have been injured in accidents, including those resulting from dangerous road conditions. With an experienced team of highly competent attorneys and legal professionals, we pride ourselves on providing quality, comprehensive legal services. We often represent individuals with limited financial resources to devote to the cost of litigation. Contact our firm toll free at (800) 259-4460 or call our Louisiana office at (318) 352-1999 for a consultation. You can also contact us online.
Our firm has an earned an excellent reputation by providing top-notch services to thousands of clients injured in auto accidents over the span of 30-plus years. Our extensive experience in dealing with the unique issues presented in car accident cases, including accident reconstruction and medical testimony, allows us to offer the best possible legal counsel to our clients. We have recovered millions of dollars for people who have suffered injuries in automobile accidents over the years.
Offering a full range of legal services, we also regularly represent clients in various other personal injury matters, such as products liability cases, wrongful death claims and accidents resulting in catastrophic injury. We maintain an active trial practice, which allows us the flexibility to settle matters when possible while remaining ready, willing and able to take a case through trial when necessary.
With offices in Natchitoches, we serve clients throughout Louisiana. Our Louisiana road hazard lawyers are available to assist on a broad array of personal injury matters, including accidents caused by unsafe driving conditions.
We look forward to serving you.