Drug/Medical Device Recalls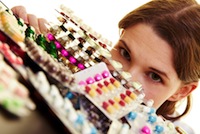 Medicine has made incredible advances in keeping people healthy and saving lives, through both new and improved drugs and innovative medical devices. People in the United States and other countries are living longer and are generally healthier than in the past. Innovations in technology can also bring risks, and the consequences of a faulty or defective drug or medical device can be severe. The medical industry and government agencies have developed a system to identify problems with products on the market and to recall those products in the interest of public safety. Sometimes the information that leads to the decision to declare a recall does not come from injuries caused by a defective product, but sometime it does. For people injured by such faulty products, an experienced Louisiana drug/medical device recall attorney can help evaluate damages and determine the proper way to seek damages.
Injuries caused by defective drugs and medical devices fall under the legal principle of products liability, although the law holds these products to a higher standard than other products. Since pharmaceutical products and medical devices have such a specialized purpose, used to treat illness and often save lives, defects can have significantly worse consequences for the public than other products. A recall of a new toaster, for example, probably will not have as immediate an impact on the public as a recall of a drug used to treat cancer. All matters relating to drug and medical device safety, as well as recommendations about recalls, are handled by the Food and Drug Administration, an agency of the federal government. The FDA receives complaints about products, investigates those claims, and deals with product recalls. The businesses producing and distributing the products may conduct a recall on their own or at the request of the FDA. The FDA also has authority under the law to order recalls of products if necessary.
The legal theory of products liability includes several different kinds of defects that may make a company liable for damage the product causes. In general, a company that manufactures or otherwise makes available to the public a defective product is liable for reasonably foreseeable damages caused by that defect. This may include a design defect, a problem with the underlying design of the product that renders it unfit for use; or a manufacturing defect, a problem in the production of an otherwise sound design that affects the product's safety. Marketing defects involve putting a product on the market with incorrect or inaccurate information about its use.
At the state level, the Louisiana Products Liability Act helps people injured by dangerous or defective products to recover damages such as medical bills, rehabilitation costs, lost wages and other lost income, and compensation for pain and suffering. Our lawyers are experienced at assessing damages caused by defective products and establishing liability for those damages.
Serving all of North Louisiana, the Natchitoches, Louisiana, product liability lawyers of the Dunahoe Law Firm represent the rights of people injured by faulty or defective medical devices and unsafe pharmaceutical products. Contact the firm now through our website or at (800) 259-4460 to schedule a free and confidential initial consultation.