Motorcycle Accidents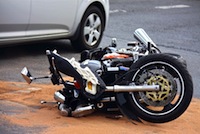 There is nothing quite like the feeling of cruising the open road on two motor-powered wheels with the wind at your back and the Louisiana sun on your skin. Yet, while motorcycles are a way of life for many riders - not to mention an affordable means of transportation - they come with great responsibility. A total of 75 people were killed in motorcycle accidents in Louisiana last year, in addition to the scores of other riders who suffered serious injuries and property damage.
While many of the risks associated with riding a motorcycle are similar to those posed by driving a car, the potential for devastating injury is often much greater. Awareness, training and strapping on a helmet before hitting the road can go a long way in keeping riders safe, but accidents do happen.
If you or a loved one has been injured in a motorcycle accident, contact the motorcycle accident attorneys at The Dunahoe Law Firm. With more than 30 years of experience representing thousands of clients, we have an extensive track record in dealing with the unique issues that often arise in cases involving motorcycles. Contact our firm toll free at (800) 259-4460 or call our Louisiana office at (318) 352-1999 for a consultation. You can also use our online contact form at your convenience.
A motorcycle accident can result in broad range of injuries, from property damage and medical bills to pain and suffering and lost wages. Fortunately, a person injured in an accident caused by another person's negligence can seek money relief from the responsible party as compensation for these damages. Often, that requires filing a personal injury lawsuit, but many times these matters can be settled without going to court.
At the Dunahoe Law Firm, we are a highly experienced, competent team of attorneys and support staff with a hard-earned reputation and tradition of excellence. Focusing on personalized representation, we view clients as people with a problem that needs to be solved, rather than simply seeing them as "cases" the way some other law offices tend to do. We take the time to understand each individual client's situation and goals and we are committed to ensuring that you recover the full amount of compensation to which you are entitled.
We have successfully represented individuals injured in motorcycle accidents in obtaining significant damages awards. In addition, we regularly represent clients in personal injury matters of every stripe, including products liability cases, drug and medical device recalls and accidents resulting in catastrophic injury. By maintaining an active trial practice, we have the flexibility to settle matters if possible while also remaining ready, willing and able to take a case to trial when necessary to obtain an appropriate remedy.
With offices in Natchitoches, we represent motorcycle riders throughout Louisiana. Our Louisiana injury lawyers are available to assist on a wide range of legal matters related to personal injury.
We look forward to serving you.