Burn Injuries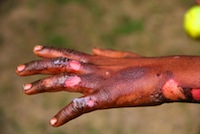 Burn injuries can be sustained in any number of ways, from electrical fires and explosions to defective products and flammable liquids. One factor that remains constant in these incidents is the serious physical, mental and financial toll that can come with a severe burn.
Nearly 2.4 million burn injuries are reported in the U.S. every year, according to the TOMA Foundation for Burned Children. Of those whose injuries require hospitalization, more than one quarter suffer burns covering more than 25 percent of their bodies. That's not to mention the costs related to severe burn injuries, which hover around $7.5 billion per year.
If you have suffered burn injuries as the result of an accident, you should seek the counsel of an experienced personal injury attorney to help you determine whether you may be entitled to recover damages from the responsible party. It is not enough to simply show that you have been burned, but also that someone else was at fault and is liable for your injury. Potential relief includes money damages to cover medical and related expenses as well as loss of wages and pain and suffering.
The Louisiana burn injury lawyers at the Dunahoe Law Firm have more than 30 years of experience representing thousands of clients injured in a wide variety of accidents, including many suffering burn injuries. Our highly experienced, competent team of attorneys and support staff has a hard-earned reputation for providing quality legal services. Contact our firm toll free at (800) 259-4460 or call our Louisiana office at (318) 352-1999 to speak directly to one of our experienced trial lawyers. You can also contact us online at your convenience.
Our personal injury attorneys are uniquely qualified to handle the specific issues that regularly arise in burn injury cases. Founding partner Edwin Dunahoe has been recognized as one of the nation's top attorneys, in addition to being hailed as a Louisiana "Super Lawyer" year after year. From a wide variety of car, motorcycle and aviation crash litigation to offshore oil rig and industrial accident cases, we have the experience, ability and track record that you need in your corner when seeking relief for burn and other injuries.
Unlike some law firms, we pride ourselves in a personalized, client-centered approach to legal practice. We focus on each individual client to determine his or her particular situation and goals and maintain an active trial practice dedicated on order to earn them the best possible result, whether through litigation or settlement. Our clients' matters are handled by real, live lawyers, not paralegals or legal assistants.
We are happy to offer prospective clients a free consultation and we often represent individuals with limited financial resources to devote to the cost of litigation.
With offices in Natchitoches our Louisiana injury lawyers are available to assist on a wide range of legal matters, including those stemming from burn injuries.
We look forward to serving you.